Nowadays, granite has become a part and parcel of every modern home due to its covetous style, colors, and inherent features. Being easy to maintain and beautiful appearance, granite is preferred by all homeowners, masons, stone engineers, and contractors in all parts of the world. When it comes to buying this superb stone in various forms such as slabs, counters, and tiles, a lot of people find it hard to purchase the stone due to some myths and unsolved issues. And all it happens due to the biggest barrier: the price of the stone. It is also common that the cost of all granite products is not the same at all.
There are lots of factors that directly or indirectly affect the original cost and, as a buyer, you simply need to comprehend these factors that help you make a better buying decision. When you reach a physical granite store, you find lots of products displayed with different price tags. Generally, granite price is determined in per square foot. From the size of the granite stone to the factor of demand and supply and from shipping to the nature of granite quarry, there are top ten concrete reasons that contribute in inflating the price of the stone. In this article, all granite buyers will be able to understand how much they need to pay for a granite product of their choice. Thanks to granite suppliers!
Demand and supply of the stone
One of the major factors that matter the most in deciding the granite price is the ideal ratio of demand and supply forces. Most granite suppliers or producing countries like India, Brazil, Norway, and South Africa sell and supply granite products across the world. When the stone is sold from a native country (stone producer) to another country (stone importer), granite stone price soars high due to implementation of export and customs duties. Granite importers like China, the United Kingdom, the United States, Italy, and Spain, pay import taxes and other duties to make a successful purchase. If demand is higher and supply is lower, it is likely the price of the product will go up. On the other hand, higher supply and lower demand will result in a sharp decrease in the price tag. Basically, the scenario of high demand and poor supply of granite makes the value of the stone costlier.
Rare and popular granite colors
Generally, relatively rare and exotic granite colors are costly as they are not available everywhere. It is said that blue, black, and red granite are the most expensive one and cost 5 times higher than the standard hue. Colors also decide whether the stone will crack or stain. The maintenance cost of lighter granite products is higher when you compare them with dark granite products. Primarily, black galaxy granite and Lakha red granite add burden to your pockets but they are superb in terms of quality and exquisiteness.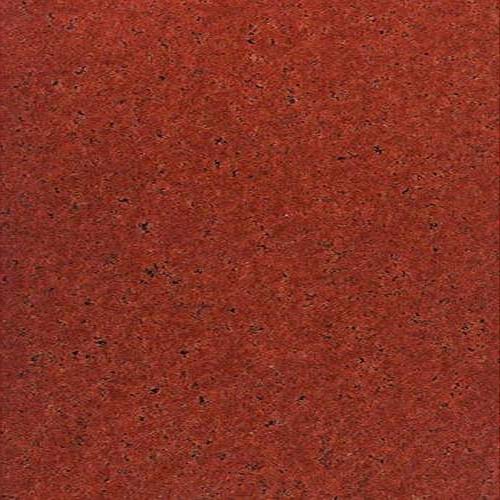 Granite slab grading is defined by its colors, veins, pits, marks, thickness, soft material content, and the quarrying destination. At the broader level, there are 3 different granite levels:
Level 1 (Low grade or entry-level granite) – "commercial grade" or "builder's grade" from China
Level 2 (Mid-grade level) – A little more unique than the level 1 from Brazil and India
Level 3 + (High-grade granite) – The finest quality from India and Brazil
These grades or quality factors induce a difference between granite types and help in determining granite countertops price for global granite buyers. Level three granite is obviously the most expensive one as it is focusing on quality.
Broadly speaking, exotic granite products (mined and processed in a foreign location) are costlier than local ones (quarried in your native country). If a stone is bought from an exotic location, it will definitely give a rise in price due to the factors of transportation costs and other levies. If you are a granite buyer and choose granite stone mined within your own state or country, then it may cost less. On the other hand, buyers have to pay more for buying granite stone that mined outside their native country. That is why the specific location of stone quarry plays a vital role in increasing or decreasing the granite price.
Quarrying patterns of the stone
It is common that all quarries are not situated in hill and plain areas. There are also other geographical surfaces where granite is mined. The price of the granite goes up when it is extracted from the mountains under the ocean. The reason behind the exaggerated price tag of such stone is the level of difficulty stone miners face while quarrying underwater. Quarrying of such stones demands more extensive search, modern tools, and a higher level of risk. Here, granite buyers can make a big difference.
Monopoly of granite suppliers
In economics, a monopoly is a word that indicates the overall control of a seller or supplier over a particular product or service in the market. In the granite industry, a granite supplier becomes monopolist when it controls stone supply in a perfect manner. Such a supplier takes complete control of the market by affecting the price of the stone product arbitrarily. It is also clear that the monopoly of the granite supplier and lower competition in the market are directly responsible for swelling the price of granite.
Parties involved in granite supply
Between a granite quarry and an end consumer, there are lots of intermediaries or agents that are involved in natural stone production and marketing. From a quarry to a processing factory, from ports to stockyard, and from company distribution to foreign ports, many agents or granite suppliers get involved in the process. The involvement of maximum parties in the supply chain gives a sharp rise to the price as all parties add their costs in the product. The final product is purchased by the end-users who bear the burden of the real price. So, the presence of many traders in the granite buying process can be blamed for rising granite countertops cost and prices.
Size, design, finish, thickness, and edge of the stone
Specific features of granite, like granite size, pattern, and presentation, also put a positive effect on the price of the stone. Simply, a thicker granite slab costs more because it is durable. Non-finished and finished products are sold at a varied worth. For having finished granite products, B2B and B2C buyers have to pay more than non-finished products. When larger slabs are cut from blocks, they are costly. When it comes to getting detailed data on specific granite features, the following aspects should be considered:
Granite product sizes: Gangsaw slabs 260 x 160 cm up in 2 & 3 cm, cutter slabs 180 x 60 cm up in 2 & 3 cm, tiles, countertops, and vanity tops
Granite product finishes: Antique, bush hammered, brushed, leather finish, polished, honed, sandblasted, tumbled and lepatora
Granite edge finish: Machine cut edges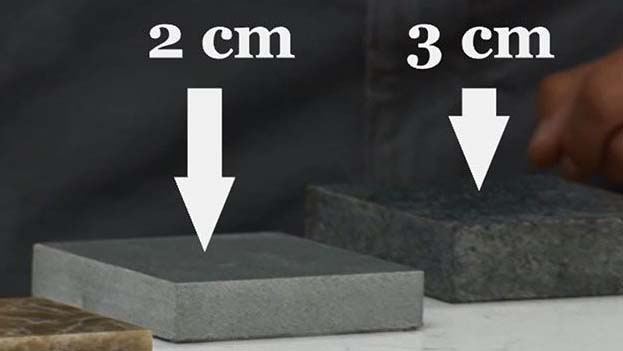 Price of substitute material in the market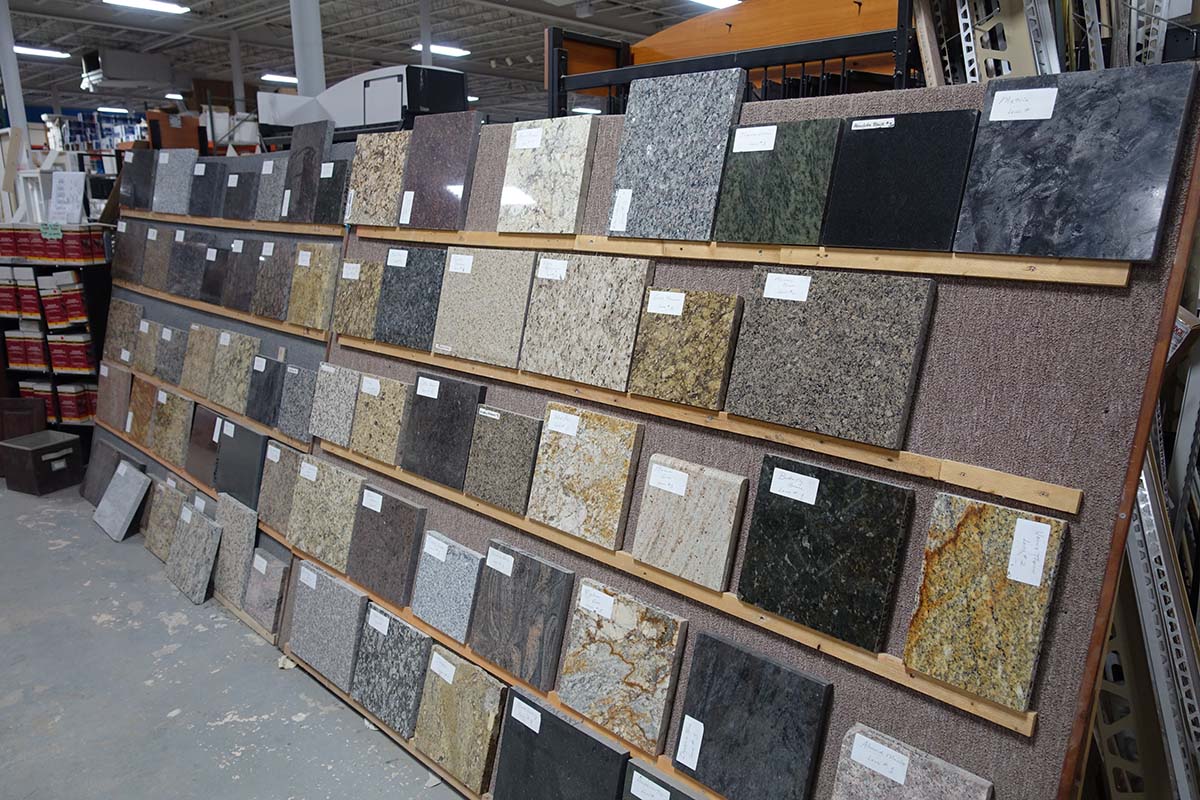 There are some engineered or artificial stones that are sold as granite substitute in the natural stone industry. The cost of such stone products is less than the natural ones as they are not extracted from granite quarries. Made of different man-made materials, engineered stone takes less time while turning into slabs and tiles. 
Natural stones are a gift from nature and stone experts work hard to give granite a superb shape. That is why the higher or lower price of a substitute material contribute to the granite price variation.
Granite quarry and factory relationship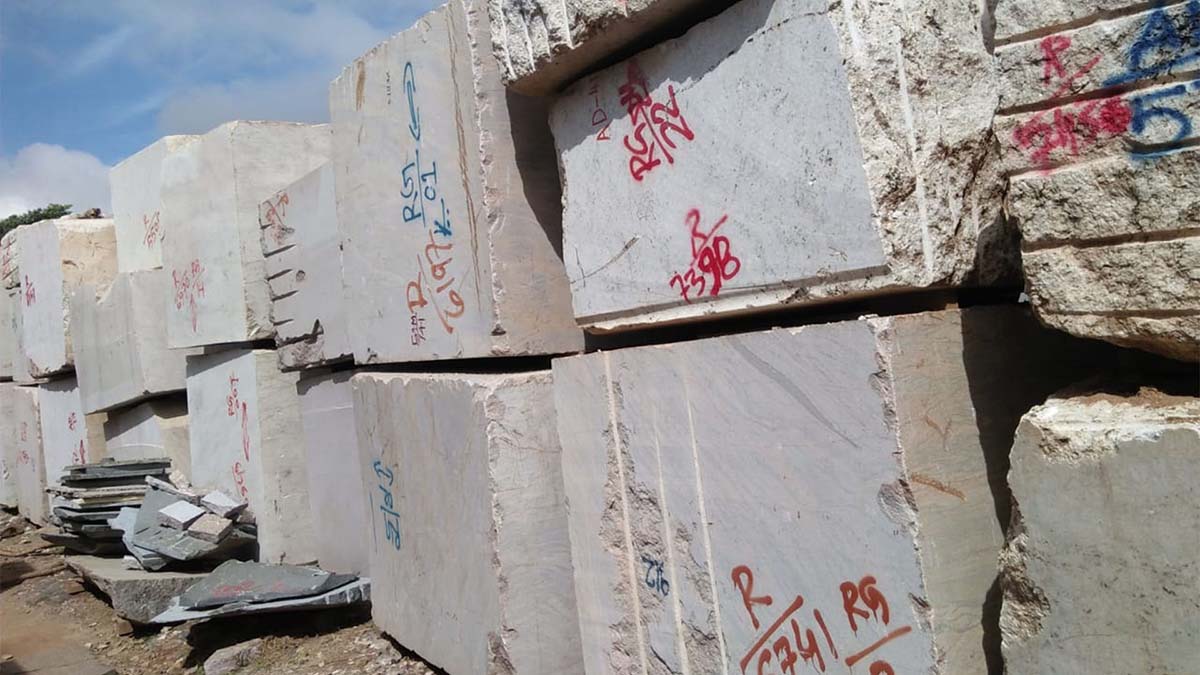 The distance between a granite quarry and a granite factory also decides if end users have to pay less or more. The cost of a product is likely to be less if the quarry is closer to the factory. In case rough blocks are transported to the factory from quarries after covering a long distance, the transportation cost will go higher. Even, the proximity between a granite quarry and a port also makes things happen in the favor of the buyers of the stone.
Apart from these factors, there may be some other internal and external factors speculating a swift upsurge in the price of granite products. If you are going to buy from a certified and professional granite exporter in bulk, it is probable that you will get granite slabs, tiles, blocks, or countertops at a lower price tag. Generally, online searchers like to find answers to questions such as, how much does a slab of granite cost wholesale, what is granite cost per square foot, and black galaxy granite cost per sq ft. With all these factors, granite enthusiasts and buyers can know more about how granite price in India, China, Brazil, or any other country is determined.
Regatta Granites India is a certified granite company involved in the manufacturing, supply, and export of granite products at a competitive price tag. It supplies granite products in more than 60 countries around the world to granite suppliers, agents, buyers, and households. Whether you are interested in knowing more about blue granite cost, tan brown granite cost, rainforest green granite cost, steel grey granite cost, or Kashmir white granite cost, the leading granite resource makes things happen in your and helps in making a sensible decision in an effective manner.