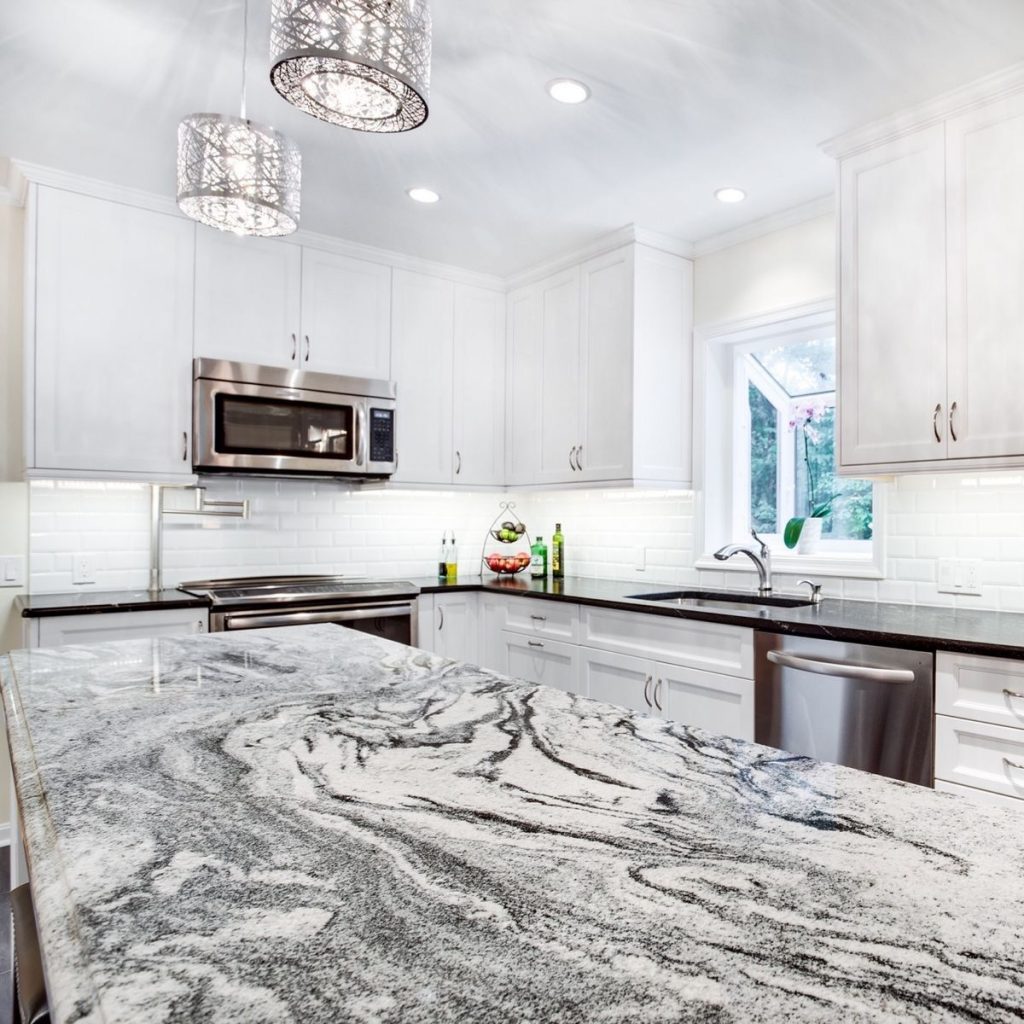 Granite is one of the most widely chosen natural stones in the world these days. Though marble is still a prevalent choice in the construction industry, granite has been replacing it in all facets of architecture from flooring to wall cladding, countertops, and others. The reasons are quite clear – amazing durability and the looks of granite. Above all, when it comes to choosing the most appealing granite for your project, white granite stones emerge as the most wonderful option among architects and homeowners.
Today, a majority of architects and builders prefer to use this Indian granite that can be sourced from India in almost any quantity and reasonable price.
Fortunately, there are different types of white granite available in India to choose from. Some of them are Crystal White Granite, Amba White Granite, Ivory White, Bianco White, Monte Cristo, Thunder White, Titanium White, Alaska White, Viscon White, River White Granite, and more.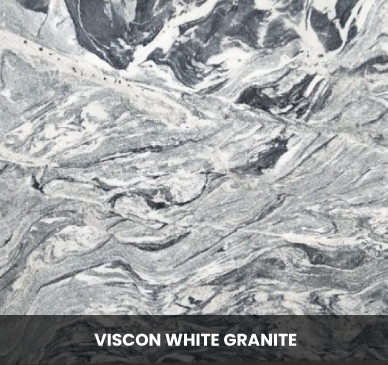 Among various white granite options available today, Viscon White Granite is one variant that is popular worldwide, particularly in American architecture. This granite is known by various names like Viscount White, Viscont White, Bianco White, Wiscont White, and others. The unmatched beauty and subtle color tone of this granite give this natural stone a distinctive identity.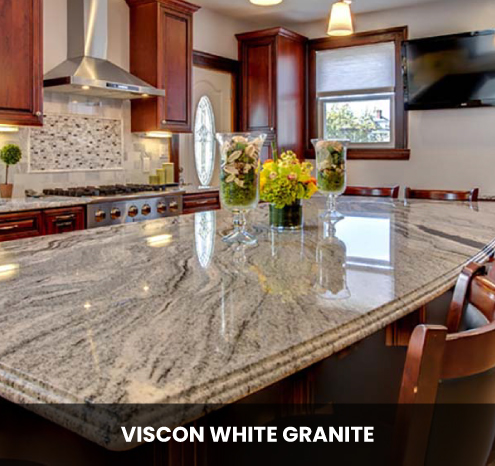 Whether it is a residential application or a commercial one, the use of Viscon White Granite lends a high level of sophistication and aesthetical value to the property. It is not only used in homes but also in shopping malls, hotels, commercial complexes, restaurants, spas, and others.
Origin of Viscon White Granite
In India, Viscount White Granite is quarried in South India, mainly in the Madanapalle district in the state of Andhra Pradesh. Several quarries of this granite are located here that supply the stone to a large number of granite suppliers and exporters across the country.   
Composition of Viscon White Granite
This white granite from India refers to a fine-grained stone that is complemented by light to dark grey-colored veins scattered unevenly across the surface. While Viscon White Granite may be termed as granite but from the application perspective, it is termed as a gneiss. Also, it is important to note that the veining and share of the stone vary significantly and it is hard to determine the design pattern of the entire slab just by looking at a small sample.
The durability of Viscount White Granite
This white granite is found to be an extremely durable stone with zero to no organic fissure snaps seen in it. Due to the high density of the stone, it is less absorbent, heat resistant, and resistant to stains. These qualities make it an excellent choice for granite countertops. On the Mohs scale, its hardness stands at 7 which means it is a very hard stone.
Staining of Viscount White Granite
Though any granite can stain, this white granite is no different as it is porous. In general, light color granites are known to get stained quickly than to high density, it doesn't get stained feasibly.
Projects for which Viscount White Granite is suitable
Viscount Granite is a top choice for projects like kitchen countertops, fireplace surrounds, vanity tops, shower walls, tub surrounds, flooring, backsplashes, shower curbs, and more. It is also true that not all granite stones can be used for external use, however, Viscon White Granite is durable enough to withstand external elements easily.
Substitutes to Viscount White Granite
Some of the popular alternatives to Viscount White Granite are: River White Granite, Bianco Romano Granite, White Spring Granite, Brown Fantasy Dolamite, Giallo Ornamental Granite, Valle Nevado Granite, and, Moon White Granite
Available Finishes
Since granite can be treated in different finishes, buyers have the option to choose a specific finish of granite for the desired application. Some of the commonly used granite finishes are:
Flamed
Polished
Lepatora
Honed
Brushed
Bush Hammered
Leather
Available Sizes of Viscon White Granite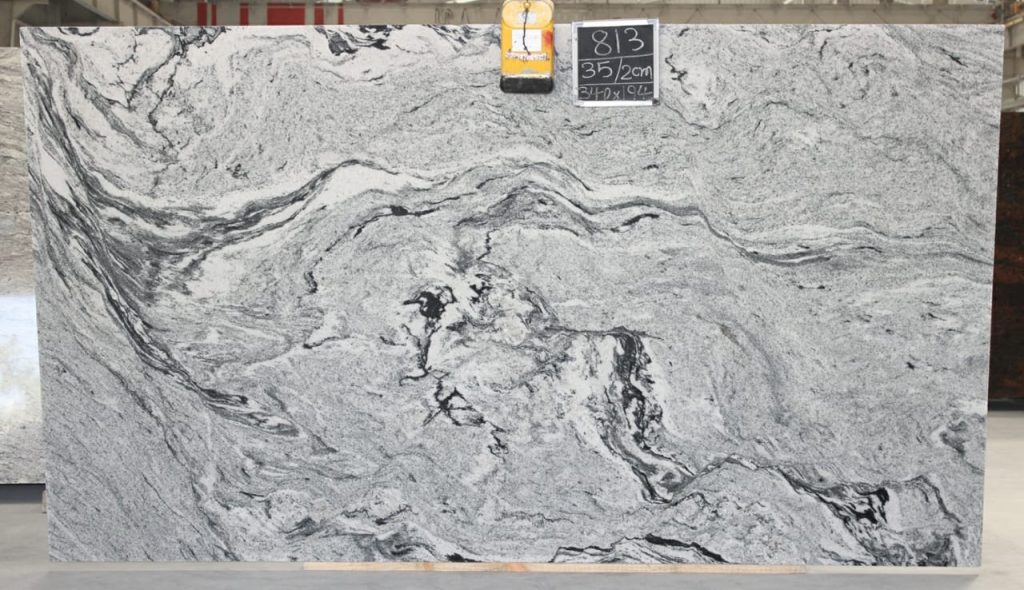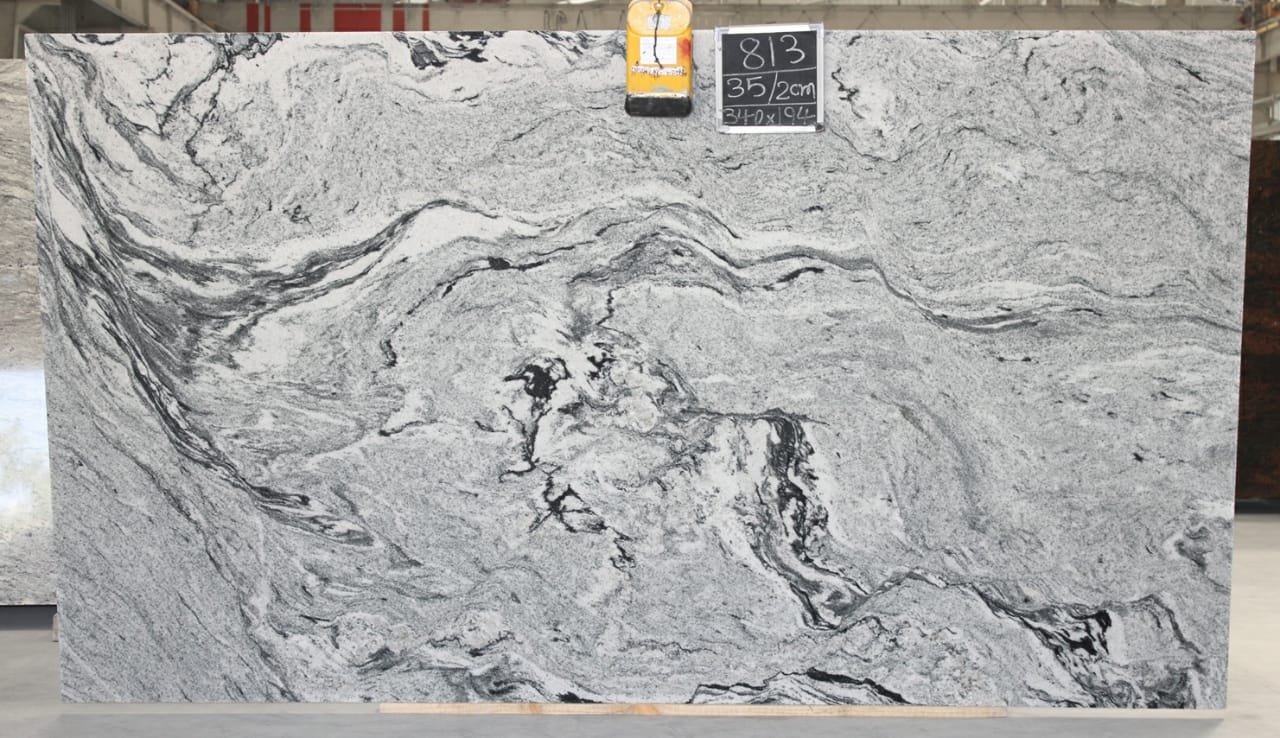 The popular sizes of this white granite are:
Gangsaw slabs – 260 x 160 cm up in 2 & 3 cm
Cutter slabs – 180 x 60 cm up in 2 & 3 cm
Tiles – 30×30, 30×60, and 60×60 cm
Countertops & Vanity Tops – Custom Sizes
Why Viscount White Granite is So Popular Worldwide?
In any architectural or construction project, there are two essential things – durability and looks. On both aspects, granite outperforms everything else. Since white granites are immensely popular for both residential and commercial architecture, Viscon White emerges as the most sought-after choice due to its stunning looks and unmatched hardness. Most architects, construction contractors, builders, and homeowners prefer this white granite from India for their various projects.