Like granite slabs and tiles, granite blocks are also a popular natural stone product demanded by B2B buyers at the global level.
 A large number of buyers look for rough blocks of giant size that can be easily cut into various slabs and tiles at granite processing units. Buying blocks is a commercial process and it helps B2B buyers get new shapes and sizes as per their specific needs. There are a number of countries that deal in the selling and supplying of colorful blocks. White granite is such a wonderful product that B2C buyers like to take home for décor and construction purposes. Keeping this trend in mind, B2B buyers flock to white granite quarries for having custom and standard size block products. Let's discuss top white granite blocks that are available for sale in India, a big hub of granite production and marketing.
Three different granite blocks cladding a white hue
Natural stone quarries in India produce a big assortment of stone blocks. In south India, there are many granite quarries where granite blocks are separated from mammoth rocks using modern quarrying equipment and machinery. Some B2B buyers prefer to have rough and unfinished blocks. So, they buy directly from granite suppliers at factory price. It is usual that the white-hued blocks sold by Indian agents are enriched with loads of chemical and physical properties. What makes this granite product first choice of granite purchasers is the compressive strength and flexural strength of the stone. Following are top three white granite blocks for sale produced by Indian quarries for the supply purpose. These include:
Surface look – A white backdrop with characteristics that resemble May flower granite
Color – Light grey and white
Quarry location – South India
Additional names – Blanco Mera Granite, Mera White Granite, Bianco Mera Granite, May Flower Granite, and May Flower White Granite
Surface look – Tiny dots of grey hues and a backdrop of white
Color – Ivory White
Quarry location – South India
Additional names – Milky White Granite and Colonial Ivory Granite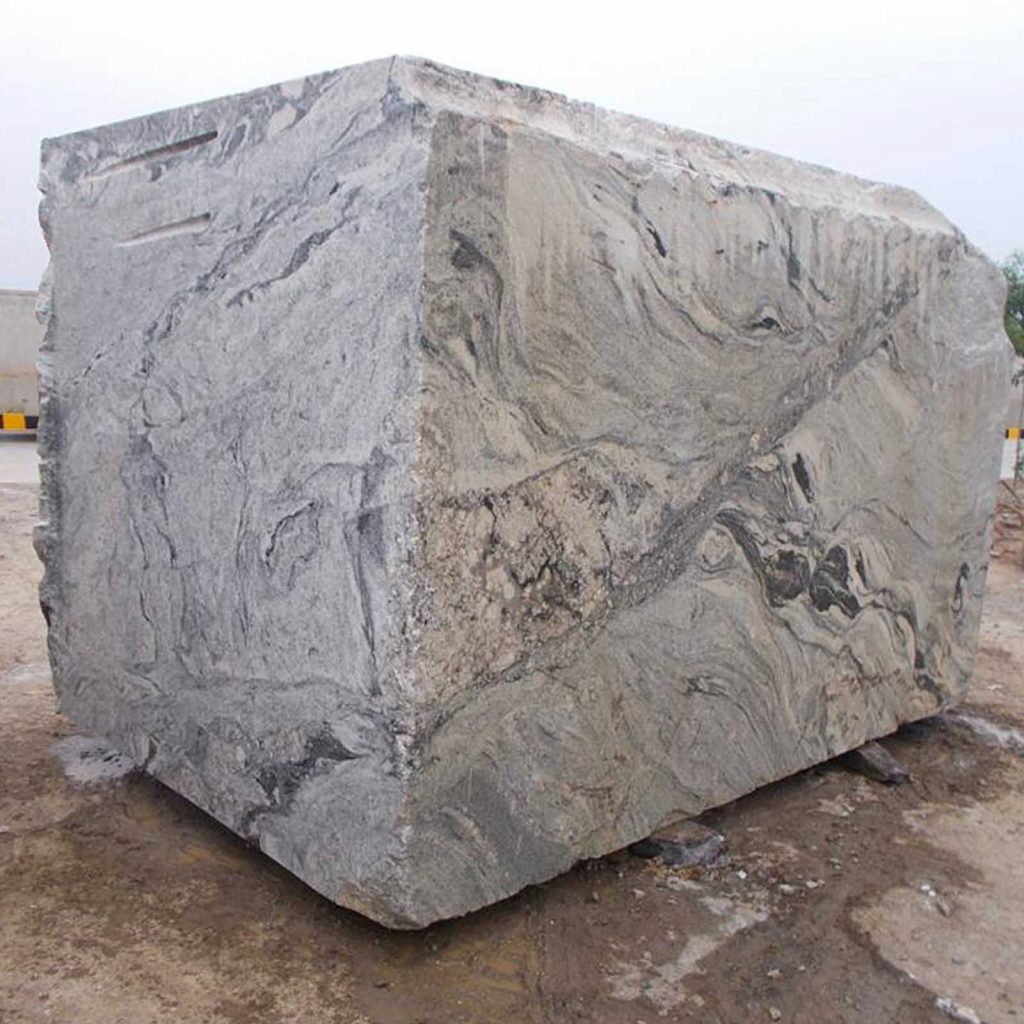 Surface look – Stunning waves and swirls grey color (dark and light)
Color – Viscon White
Quarry location – South India
Additional names – China Viscount White Granite, Viscount White Granite, Viskont White Granite, China Romano White Granite, and White Landscape Granite
What Indian granite quarries expect for global buyers?
Buyers always come with loads of expectations and want to get all queries cleared before making an actual purchase. Possibly, Indian granite industry responds to all queries and solve all issues that are concerned with the buying and selling of block products. There are lots of reasons that attract global granite buyers to Indian quarries such as quality, quantity, testing, size, weight, inherent features, and overall specifications of a to-be-bought product. Mentioned-below is some specifications that buyers can easily find in viscon white, ivory white, and Meera white granite block (rough) products.
Inspecting rough blocks by qualified stone engineers
Block evolution for detecting cracks, fissures, color, pattern, etc.
Selection of premium blocks and rejection of poor quality stone
Size 300 x 155 x 160 cm and weight 23 tons
Size 310 x 140 x 205 cm and weight 27-28 tons
Size 320 x 130 x 190 cm and weight 23-24 tons
Size 320 x 165 x 185 cm and weight 29 tons
Block Product Specification
Application/usage – Cutting slabs and tiles
Material – Granite
Place of Origin – South India
Port of exit – Kandla, Mundra, JNPT, Cochin, Vizag, Tuticorin, and Chennai
Stone Form – Raw, Rough, Sawn, Rubbing Block
Surface Finish – Unfinished
Regatta Granites India, one of the leading granite block suppliers from India, is committed to rendering all granite buyers high-quality and strong granite blocks, direct from quarries, in standard and customized sizes. The block supplier has a customer base in more than 60 countries around the world.