At Regatta Granites India, we just don't sell granite, but also share suggestions, tips and ideas from time to time – through our Blog section – with our customers and other granite lovers. This helps them remain well informed while buying granite as well as when it is about using granite floor tiles or countertops effectively and maintaining them without hassles.
Well, this time it is about granite flooring, and the article can come in handy for those, who are recently panning to upgrade their home or office floor with granite floor tiles. To avoid any post-installation trouble, it is crucial for them to get familiar with pros and cons of using granite as a flooring material beforehand.
Granite tiles are available in multiple shades and surface finishes that you can chose accordingly to ensure that the flooring material beautifully blends with its surroundings. Discussed below are several features of granite that will help you decide whether granite tiles can be a great option for your floor.
Extremely Durable
Granite tiles are exceptionally durable – a fact which makes it a wonderful flooring solution. In the long run, granite tiles are known to perform better than many other materials, both in the natural stone and engineered tile categories. If cared well, granite tiles can last for a lifetime.
The reason stated above also makes it a great material for vanity and kitchen tops. You can check with your granite supplier for popular granite colors for kitchen countertops.
Water-Resistant Feature
With granite tiles, you don't have to worry about any damage to the floor due to moisture in your home or office spaces that are prone to get wet. Granite flooring tends to be nearly impervious to liquids.
Moreover, stagnant liquid doesn't cause any damage to granite floor. However, to prevent falls and slips, it is suggested that you wipe away liquid from granite surfaces. This is because polished granite surface in itself is quite slippery.
Hypoallergenic Nature

If someone in your family is suffering from allergies or asthma, it is better that you opt for granite flooring. The unique hypoallergenic quality of granite tiles can help reduce symptoms of such conditions. Just clean your floor regularly and granite will lower the amount of allergens.
Experts recommend mopping granite tiles once a week. You should also sweep your granite floor once a few days.
Availability in Numerous Color and Designs
More than 200 different varieties of granite exists with around 150 varieties occurs in India, which is one of world's largest manufacturer and exporter of granite.
Granite comes in different colors like blue, black, brown, green, red, pink and more. Furthermore, variation in natural surface design patterns in the form of patches, streaks, waves and swirls simply add to its beauty.
Choose a granite dealer, who has a wide portfolio of granite varieties. This makes it easy for you to pick the most suited one as per your choice or something that best complements the decor of your office or home. No doubt, with the right choice, you can easily take your home transformation to the next level.
Somewhat Difficult to Install
The main culprit is the weight of granite, which makes it a bit difficult to install. But, that should not be a problem for a buyer. This is because you will always need professional assistance to install granite tile or any other flooring material.
Maintenance Might Require Professional Help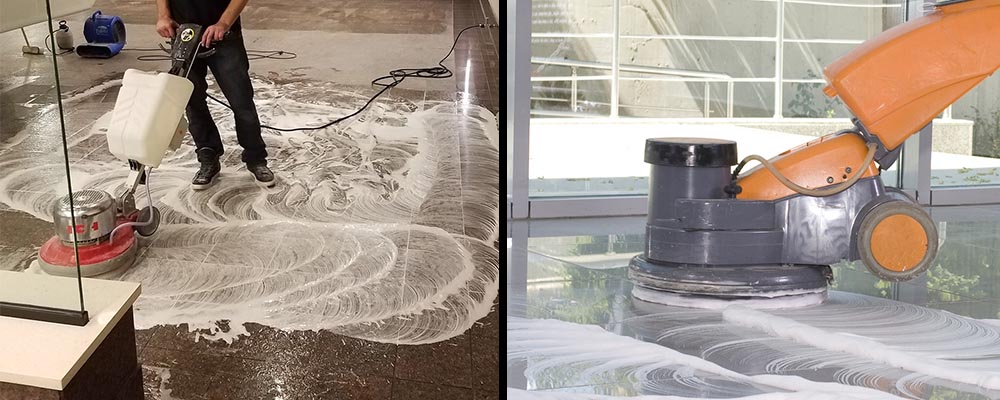 While it is not that tough, a few people might find it a little difficult to clean and maintain granite flooring. In such a case, you can seek professional help to get your granite tiles cleaned.
Hope, the article will help you make a more informed decision during your next floor renovation project. Given the number of benefits of using granite tiles, the unique qualities of this natural stone would surely impress you.